December 5, 2022
Posted by:

noAdmin

Category:

DJI Enterprise Dealer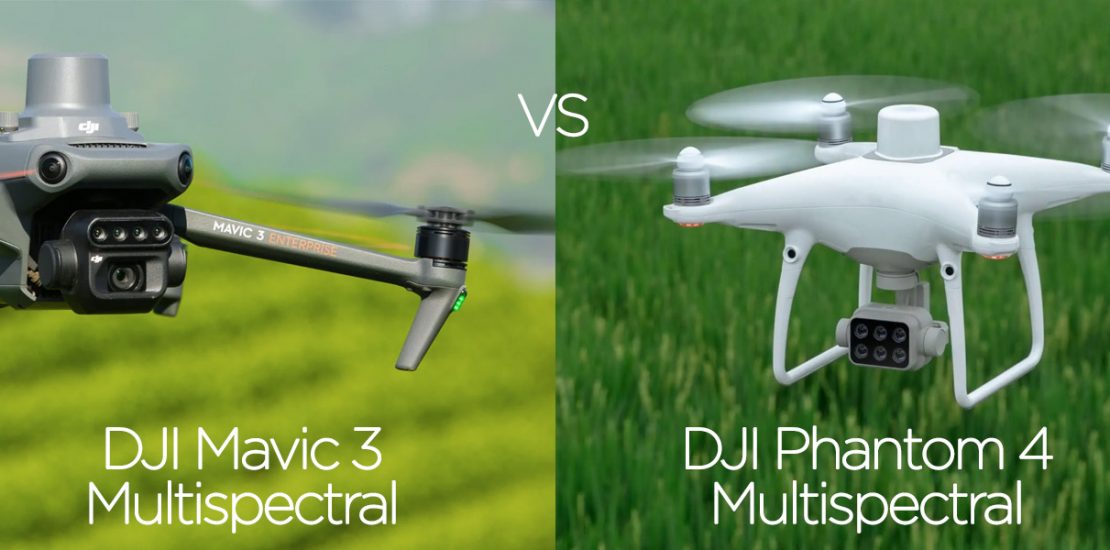 Mavic 3 Multispectral vs Phantom 4 Multispectral 
Il Mavic 3E è il nuovo drone presentato da DJI Agriculture dedicato al mondo dell'agricoltura di precisione e land management. Il piccolo drone ha preso il posto del precursore DJI Phantom 4 Multispectral (non più in produzione) ed in questo articolo scopriremo le principali differenze tra i due. 
Mavic 3M e Phantom 4 Multispectral: Camera
Tra gli upgrade principali, salta subito all'occhio la maggiore risoluzione dei sensori di acquisizione, con ben 5MP per banda (contro i 2MP) sui 4 sensori multispettrali e 20MP per la camera RGB, che vanta inoltre un sensore Micro 4/3.
Le 4 bande multispettrali proposte da Mavic 3M sono quelle relative a Verde (560 ± 16 nm), Rosso (650 ± 16 nm), Bordo rosso (730 ± 16 nm) e Vicino infrarosso (860 ± 26 nm), è assente la banda del Blu.
Grazie alle capacità computazionali migliorate vi è la possibilità di visualizzare in diretta le immagini relative agli indici NDVI, NDRE e GNDVI, sia in modalità singola sia affiancate (side by side) al flusso video RGB, inoltre le camere multispettrali sono in grado di registrare video in 1080P@30fps.
Sul lato RGB, la camera da 20MP dalle dimensioni generose, trattandosi di un sensore 4/3, abbinata ad uno shutter meccanico garantisce nitidezza e dettaglio anche a quote elevate, permettendo di effettuare rilievi ad alta definizione e con accuratezza centimetrica grazie all'integrazione col sistema RTK di bordo.
Esattamente come per il P4M, anche sul M3M è possibile utilizzare correzioni provenienti da rete (modalità N-RTK) o da DJI D-RTK2 (venduta separatamente), tuttavia nel caso del nuovo arrivato è possibile rimuovere il modulo RTK al fine di aumentare l'autonomia in applicazioni a bassa precisione o implementare sistemi accessori, come lo speaker o dispositivi di terze parti integrati tramite DJI PSDK.
DJI SmartFarm: applicazione mobile per il controllo del drone e dei dati
Tra le nuove possibilità offerte da DJI Mavic 3M, vi è quella relativa alla mappatura in real-time tramite la connessione 4G alla piattaforma DJI SmartFarm, permettendo di rilevare anomalie tramite intelligenza artificiale. 
DJI SmartFarm, applicazione mobile già presente per gli utilizzatori dei droni AGRAS, consente agli utenti non solo di controllare e gestire facilmente l'aeromobile, ma anche di visualizzare chiaramente i dati dei propri droni. La versione per Mavic 3M sarà rilasciata nel Q2 2023.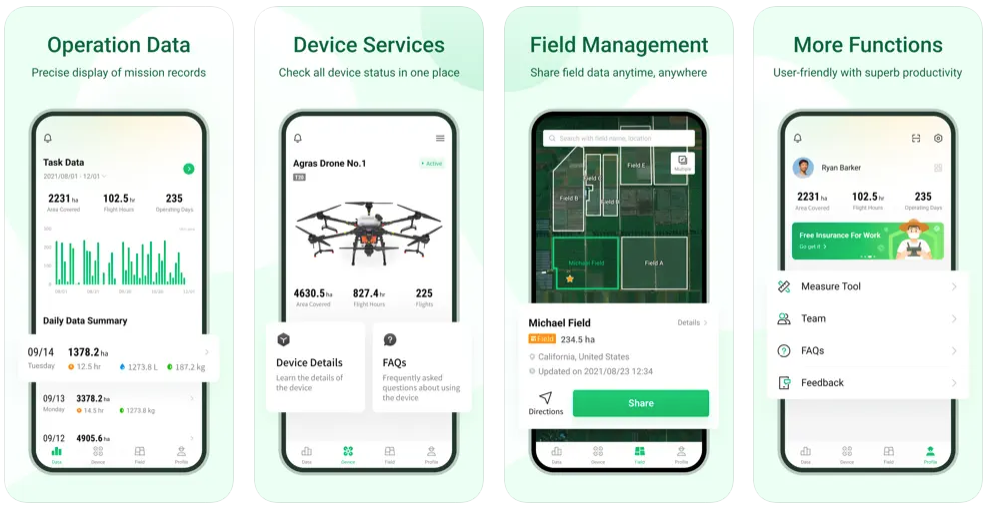 Mavic 3M e Phantom 4 Multispectral: Volo e trasportabilità
Ulteriori miglioramenti sono facilmente riscontrabili su tempo di volo e la portabilità, dove rileviamo un aumento dell'autonomia di circa 60% (da 27min a 43min) ed una riduzione del peso del 40% (da circa 1.4kg a 0.9kg).
Il passaggio da DJI OcuSync a DJI OcuSync 3 Enterprise ha inoltre permesso di aumentare la distanza di trasmissione da 5km ad 8km.
La comparativa
La tabella seguente fornisce una panoramica delle specifiche chiave di entrambi i droni.
 
Mavic 3M
Phantom 4 Multispectral
Massa Operativa al Decollo
951g;
1,050g (max take-off weight)
1,487g
Ripiegabile
SI
No
RGB Camera
4/3 CMOS;
20MP
1/2.9″ CMOS;
2MP
Camera Multispettrale
4 Bands: Green, Red, Red Edge, Near Infrared; 
1/2.8″ CMOS;
Each camera, 5MP:
5 Bands: Green, Red, Red Edge, Near Infrared, Blue;
1/2.9″ CMOS;
Each camera, 2MP
Tempo di volo massimo
43 mins
27 mins
Temperatura operativa
-10°C to 40°C
0°C to 40°C
Trasmissione
DJI O3 Enterprise;
8km
DJI OcuSync;
5km
Radiocomando
DJI RC Pro Enterprise smart controller with built-in screen
P4 SDK Remote Controller. No built-in screen: Additional smart device is required. 
Modulare
SI
No
Prezzo
€ 4.600 circa (IVA esclusa)* 
€ 5.650 (IVA esclusa)
* prezzo da confermare, prodotto in pre-ordine. 
Mavic 3 Multispectral: Prezzo e disponibilità
DJI Mavic 3 Multispectral è disponibile per l'acquisto da oggi in alcuni paesi e regioni presso i rivenditori autorizzati DJI Enterprise come Dron-e.it, il prezzo, da confermare nei prossimi giorni, è di circa 4.500€ iva esclusa. 
Prenota una dimostrazione.
Se hai un progetto, vuoi testare il prodotto, capirne le sue potenzialità, scrivici!
Stay connected – Civil & Industrial Applications with UAVs.