February 24, 2022
Posted by:

noAdmin

Categories:

LiDar Survey, Survey & Mapping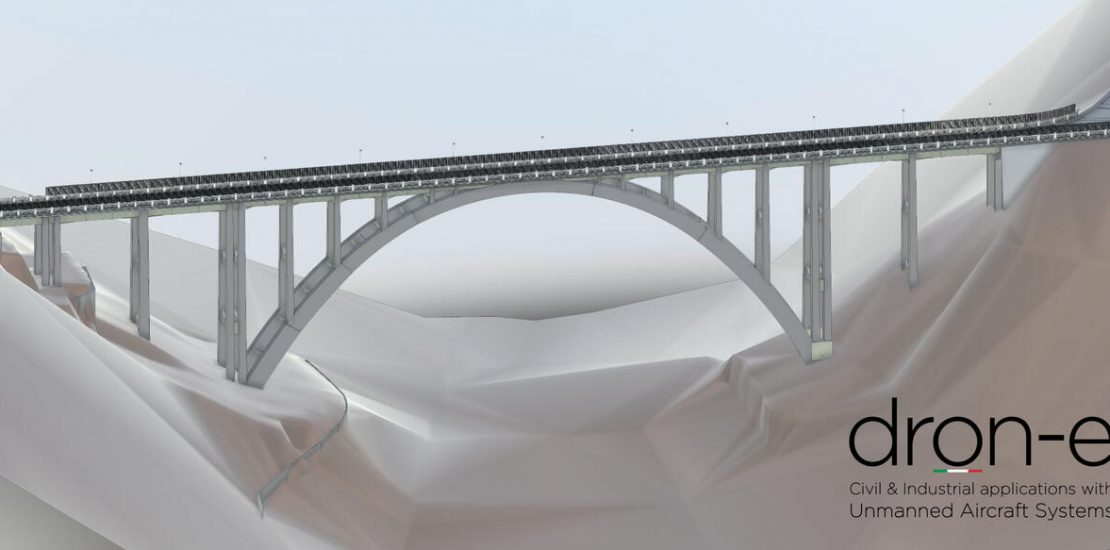 Thanks to the LiDAR Emesent Hovermap, equipped on a DJI M300 RTK, the Dron-e team has been able to obtain a geometrically accurate model  of the Siano bridge in just 29 minutes.

The challenge: Survey an entire transport infrastructure in a fast, safe and economic way.
The bridge across the Musofalo river, also known as "Siano Bridge" – Catanzaro, is a single arch bridge with a with a maximum span of 94m and a maximum height of 94m, designed by engineer Prof. Emanuelli and built between the 1928 and 1930.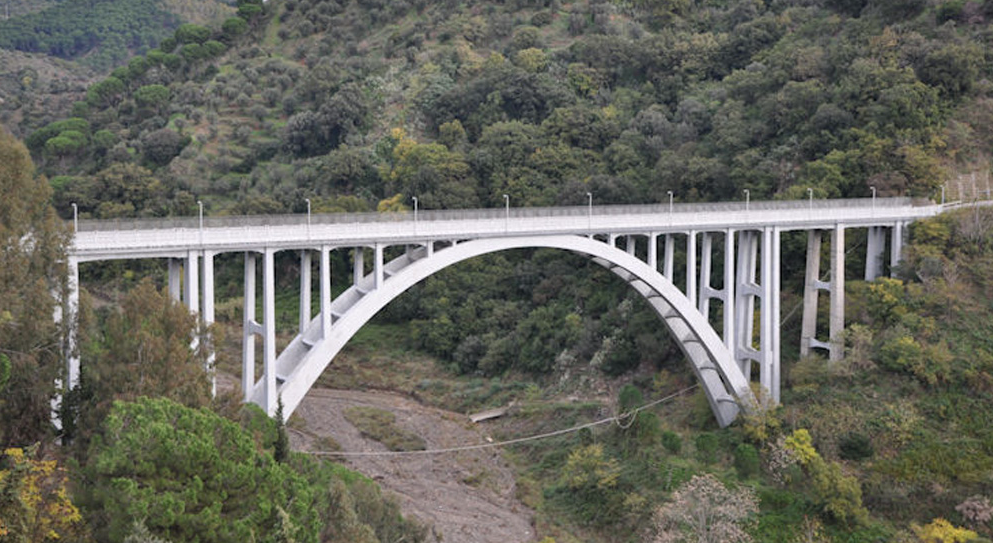 During 2019, access to the bridge has been restricted due to a landslide alongside one of the entraces to ensure that there were no stability and security issues. This kind of evaluations, as it is known, require an accurate study based upon the numerous hours on the field needed to gathere the necessary informations about the current state of the infrastructure.
Traditional survey methods would imply the need of at least two specialized technicians on the field, for at least 2 days (not considering the days of processing).
During its activity, Dron-e team demonstrate how a survey of this kind of infrastructure can be conducted in complete safeness, high efficiency and short timings, thanks to Hovermap Lidar based on SLAM technology.
What does SLAM mean and how does it work?
SLAM is the acronym for Simultaneous Localization and Mapping and it is a method used frome authonomous vehicles/aircrafts that allows simultaneous build of a map and localize ourserves in the reconstructed enviroments, even if we start in a completely uknown location with no awareness of the surroundings.
The solution: Drone + Hovermap.
Hovermap, being a greatly portable mobile mapping system, can be mounted on a backpack, on cars, in a protective cage, on robot and on any drone.
As Hovermap processes in real time the acquired LiDAR data, it allows the pilot to take advantage of its unmatched collision avoidance system. The system is able to stop the aicraft from colliding even with the smallest obstacles (as small as a 2mm diameter cable) with a 360° coverage, and to mantain the aircraft stable in GPS-Denied enviroments.
During our survey we deployed an Enterprise DJI M300 RTK, equipped with the Hovermap LiDAR as payload. The drone, taking advantage of the LiDAR built-in complex planning algorithims and Artificial Intellicence, has been able to fully autonomously carry on the survey (but still under a pilot supervision, for legal limitations) and completed the scan in just 29 minutes, with a data accuracy of +/-10 mm.
The result: from point cloud to BIM.
The post-processing lasted 80 minute and has been conducted in the Emesent Software, that allows to develop, color and align point clouds.
Following that, Dron-e developed a methodology that allows us to get obtain BIM models directly from point clouds, as show in the following screenshots of the final BIM model of Siano Bridge:
The deployment of a parametric model, that can generate sub-models (architectural – structural) and the implementation of a dedicated database containing not only geometric informations but also statistics and details about the single components, the mainteinance and future developments, confirms Hovermap ability to improve any 3D survey expert campaign.
Unique support in Italy.
Dron-e is an Emesent Authorized Reseller. Feel free to ask for more informations, dataset and datasheet calling + 39 0961770591 or via the dedicated page.
Book for a demo.
If you have a project, or want to test the product or understand its applications, contact us!
Stay connected – Civil & Industrial Applications with UAVs.